ABOUT HEIRLOOM ART STUDIO and SPECIALTY SERVICES
Meeting all your creative, artistic, and shopping needs in one location.


Heirloom Art Studio offers a wide variety of creative services beyond the photographic and fine art restorations and original fine art paintings and portraits shown on this website. Kathryn Rutherford, her husband, Greg Rutherford, and daughter, Tania Rutherford can meet all your creative and artistic needs in one location from their Sevierville studios in Wears Valley, Tennessee, just outside of Gatlinburg, Pigeon Forge and the Great Smoky Mountains National Park.
Each of the Rutherfords have their own individual specialty skills and companies, as described below, and the Heirloom Art Studio building offers a unique retail shopping and art gallery experience well worth the drive.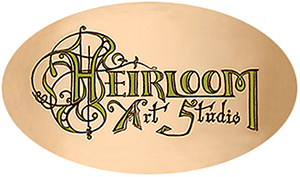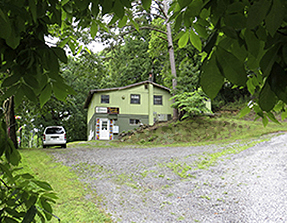 KATHRYN RUTHERFORD-BAE, CRA, Ph.AL, Cr.Photog, M. Artist

Kathryn Rutherford is an award winning, internationally known fine artist, educator, and photographic and fine art restoration artisan. Her company, Heirloom Art Studio, was established in Canada in 1980 and is recognized by such companies as Eastman Kodak, Fujifilm Corporation, and Epcot Center. In addition to awards of excellence for her original fine art paintings and portraits, Kathryn holds multiple awards and degrees from the Professional Photographers of Ontario, Canada, Michigan, Wisconsin, Tennessee, and America.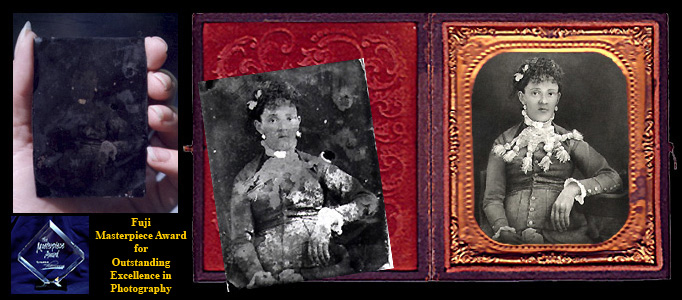 Kathryn Rutherford ships high quality photographic and fine art restorations to seventeen countries throughout the world and received the Masterpiece Award for inventing the photographic process shown above that restores blackened tintypes. This award, presented for photographic excellence, is the highest honour given to a professional photographer by the Fujifilm Corporation. As one of three artisans chosen from around the world to represent the photographic restoration industry, her restoration work hung at Epcot Center, Florida, in a special exhibit honouring the 150th anniversary of the invention of the Daguerreotype-the first photograpic image.
Kathryn is a Certified Retouch Artist in Ontario, Canada, and holds the degrees of Master Artist, Photographic Artist, Photographic Laurel, and Photographic Craftsman from the Professional Photographers of America and the American Photographic Artisans Guild. She was presented "Lifetime Member" status with the Professional Photographers of America in 2017 for her thirty-years of dedicated commitment to the service and education of the photographic artisan, restoration, and photography industry.
Kathryn uses historic photographic darkroom techniques that bring faded photographs back to full density without additional restoration charges and is recognized as one of the few remaining photographic artisans that is qualified to restore damage to an original photograph whenever possible.
To read more about Kathryn Rutherford's life, education, and accomplishments CLICK HERE.
FINE ART EDUCATION, CLASSES, and WORKSHOPS

Kathryn Rutherford, is an outstanding high school and college Fine Art and English teacher having taught in public schools throughout Ontario, Canada as well as in the states of Arizona and Tennessee. CLICK HERE to learn more about your oportunity to take a class or workshop or arrange for private instruction both in person and online.

As owner of Exclusive Custom Screenprinting, Greg Rutherford has dedicated his lifetime to the production of custom screenprinting and wearable garments. As a former Technical Advisor to the print industry, Greg's technical knowledge of substrates, inks, and printing processes provides specialty services to clients such as printing on wood, plastics, metal, kites, and more.
Kathryn Rutherford is Art Director for Exclusive Custom Screenprinting and creates all the original layouts and designs for screenprint production-NO CLIP ART HERE!!
Kathryn and Greg Rutherford have recently combined their talents by producing a series of hand-pulled serigraph art prints. These prints, and many of the other products produced in-house, are available for sale at Outstanding Expectations and Sword and Ivy shops located online and inside the Heirloom Art Studio building which can be located by going to the CONTACT page.
Tania Rutherford holds a Bachelor of Technology Degree with a specialty in 3D Animation Character Modeling, but is also highly qualified in web and graphic design as well as brochure layout. She is highly skilled using Adobe In-Design having spent many years as Layout Editor of several newspapers and magazines.
Often found creating metal clay characters and avatars for clients, Tania uses her unique drawing skills to create custom ordered avatars and original designs for printing on t-shirts or, using them as reference material, uses her sewing skills to produce the two-dimensional characters as hats and plush stuffed models which are shipped internationally.
Tania's resume and freelance services are available for viewing at Snorkeldragon Dimensions.
ADDITIONAL SERVICES FROM HEIRLOOM ART STUDIO

All photographic and fine art restoration, as well as original fine art, is produced in-house at the Heirloom Art Studio, in Wears Valley, Tennessee. Heirloom Art Studio also offers in-house logo and graphic design, web design, illustration, as well as the printing of Dye Sublimation products and merchandise, and Giclee Reproduction Printing of artwork and photography by others seeking to work directly with their specialty printer.
To discuss your creative needs CLICK HERE to contact Kathryn Rutherford at Heirloom Art Studio.

ONE STOP SHOPPING!!

The Heirloom Art Studio building also houses Outstanding Expectations, the fine art and specialty gift gallery where all Kathryn Rutherford Fine Art is sold. On display in the gallery are the Metaphysical products sold online through Sword and Ivy. Many of the products and merchandise sold by these companies are handmade by Kathryn, Greg, and Tania Rutherford. Both images below will take you to the online shopping site of these companies.

The Little Shop with Big Surprises!!

Products sold online at Sword and Ivy are on display
and available for purchase in the Heirloom Art Studio Buildling
HOW CAN WE MEET YOUR NEEDS?