PHOTOGRAPHIC RESTORATION

Don't let your precious photographs remain damaged, deteriorated or fade from view.

Contact Heirloom Art Studio TODAY and
BRING BACK MEMORIES OF ANOTHER TIME.
Never a charge for estimates.
YES, we wholesale all our services to qualified businesses!

Heirloom Art Studio ships worldwide and owner, Kathryn Rutherford, considers it a privilege and honor to care for and preserve your priceless family collections entrusted to her expert and skilled hands. Kathryn will preserve your family history, turn your images into lasting works of reproduction photography, create original portraits or fine art or restore your paintings and portraits. Heirloom Art Studio offers photographic conservation and restoration of original photographs, copy and duplication, special photographic processes developed by, and only available at, Heirloom Art Studio and both traditional and digital restoration.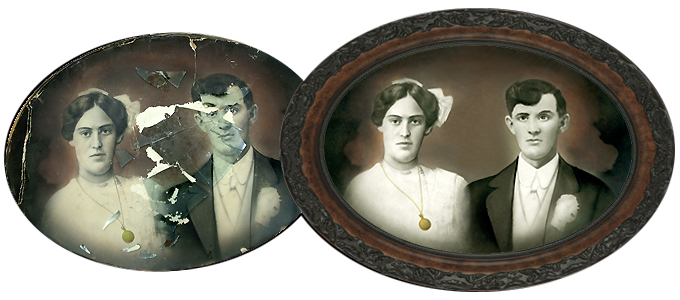 (Mouse over any image to view its restoration-Use scroll bar at right to view more memories)


Kathryn Rutherford is internationally recognized for her exceptional fine art and restoration skills by such companies as Eastman Kodak and Epcot Center, Florida having been chosen as one of the world's top three restoration artisans to display art work in a special exhibit honoring the invention of the Daguerreotype.
Kathryn Rutherford is the only restoration artisan to be presented the Fuji Masterpiece Award for Photographic Excellence. This prestigious honor was awarded for a photograph restored using a photographic process she invented that brings back and restores the lost image on a blackened tintype.
The Heirloom Art Studio still prints photographs in the darkroom, prints on fiber base papers, prints from negatives, slides and transparencies, restores and preserves original photographs and fine art paintings and retouches, restores, copies and duplicates photographic images both digitally as well as using historic restoration processes.
Whether you need to fix, repair or restore your vintage original photographs and paintings using archival conservation methods that will preserve your family's genealogy and collections for generations to come, or need retouching, copying, restoration and duplicating of images for family viewing, sharing or special gift giving, Heirloom Art Studio is the place you can trust for expert skills, advice, education, fine art and restoration services.
1980-2016 All Rights Reserved. No Image may be reproduced from this website in any form without written permission from the Heirloom Art Studio or the individual owner of each image.